2014

2013

2012

2011

2010

2009

2008

2007

2006

2005

2004

2003

1992
Poetry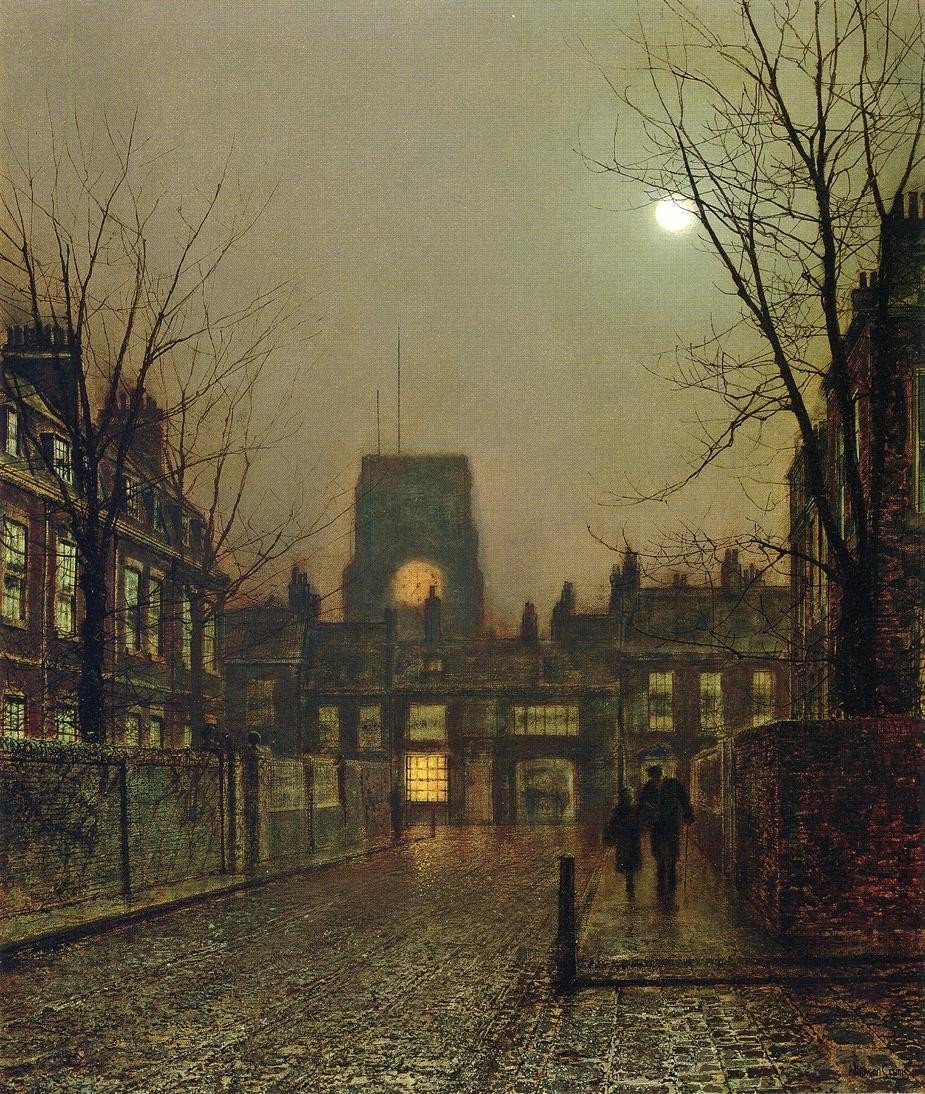 Back in 1999 when I met Adam he was living in New York City while I was still thrashing against my cage in Michigan. After our initial collision one life-altering evening in NY, I headed back to the Midwest with a sad goodbye and a sorrowful sigh, not sure if we would ever meet again. But 670 miles could not come between the spark that we had ignited, and the next five months pulsed with love letters, poetry, flowers and phone calls that lasted well into the night. On some of our late night phone calls Adam would read to me. He would read me poetry and passages from Shakespeare, and one night he read T.S. Eliot's, The Love Song of J. Alfred Prufrock. I had never heard it before and I sat there, breathless, as he read me these words that sank within my soul and crashed around within me in echoes and whispers. I made him read it to me again immediately.
Adam came to visit me in Michigan a few months before I moved to NYC. His first night there, as we lay on the bed wrapped in each other's arms, he started to recite The Love Song of J. Alfred Prufrock from memory. That's right, he memorized the damn thing! For those of you not familiar with the poem, it is not a short poem. It has nearly 1,100 words, so let's just say it was a significant 'wow' moment for me. Since those early days in 1999 I have read the poem probably over a hundred times. It has become one of those external things in life that you can point to and say, "There, that's part of who I am as a person."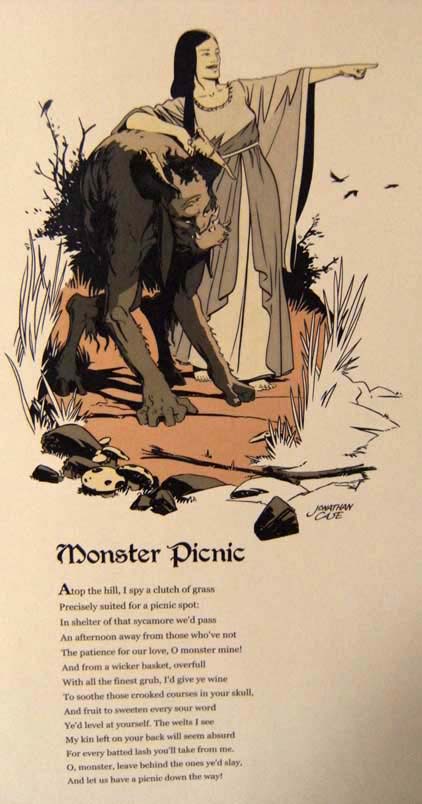 One of my favorite finds from last year's Stumptown is an artist by the name of Jonathan Case.
I picked up this poster from his table, among other things, and it has become one of my favorite pieces.


Monster Picnic

Atop the hill, I spy a clutch of grass
Precisely suited for a picnic spot:
In shelter of that sycamore we'd pass
An afternoon away from those who've not
The patience for our love, O monster mine!
And from a wicker basket, overfull
With all the finest grub, I'd give ye wine
To soothe those crooked courses in your skull,
And fruit to sweeten every sour word
Ye'd level at yourself. The welts I see
My kin left on your back will seem absurd
For every batted lash you'll take from me.
O, monster, leave behind the ones ye'd slay,
And let us have a picnic down the way!
Hamlet
Act 4, Scene 7

QUEEN GERTRUDE
There is a willow grows aslant a brook,
That shows his hoar leaves in the glassy stream;
There with fantastic garlands did she come
Of crow-flowers, nettles, daisies, and long purples
That liberal shepherds give a grosser name,
But our cold maids do dead men's fingers call them:
There, on the pendent boughs her coronet weeds
Clambering to hang, an envious sliver broke;
When down her weedy trophies and herself
Fell in the weeping brook. Her clothes spread wide;
And, mermaid-like, awhile they bore her up:
Which time she chanted snatches of old tunes;
As one incapable of her own distress,
Or like a creature native and indued
Unto that element: but long it could not be
Till that her garments, heavy with their drink,
Pull'd the poor wretch from her melodious lay
To muddy death.
Goatsucker
Old goatherds swear how all night long they hear
The warning whirr and burring of the bird
Who wakes with darkness and till dawn works hard
Vampiring dry of milk each great goat udder.
Moon full, moon dark, the chary dairy farmer
Dreams that his fattest cattle dwindle, fevered
By claw-cuts of the Goatsucker, alias Devil-bird,
Its eye, flashlit, a chip of ruby fire.

So fables say the Goatsucker moves, masked from men's sight
In an ebony air, on wings of witch cloth,
Well-named, ill-famed a knavish fly-by-night,
Yet it never milked any goat, nor dealt cow death
And shadows only--cave-mouth bristle beset--
Cockchafers and the wan, green luna moth.

Sylvia Plath
About a year ago I wrote a post about a poem I'd heard called "Bartholomew Biddle and the Very Big Wind". The poem was written by a man named Gary Ross and the poem was recited in a movie called "Trigger Effect". This poem existed no where on the internet or in publication and it wasn't until I went through the movie, pausing every few moments throughout the three sections of film in which different parts of it were recited, that it finally made it to the great and wondrous internets. The reason that I mention this for the second time is because in recently checking on Gary Ross's IMDB page I've found that he has written an update which includes the second part of this poem. Gary also mentions that he is trying to get this children's poem published so hopefully we'll see it on bookshelves soon.
Here is the updated poem, yet still unfinished.