2014

2013

2012

2011

2010

2009

2008

2007

2006

2005

2004

2003

1992
The Social Experience
Friendships. I've never been too terribly successful at the concept of them. As a teenager I was repelled by the high school cliques which included the cheerleaders, the athletics, the drama club, the stoners, the geek squad etcetera. This resulted in having only one best friend at a time with a smattering of others as sufficient party fodder. As a teenager I was content with this lifestyle because I was close with my family and would spend most of my free time with them. After high school my family situation changed and I hadn't maintained any of my high school connections. I started to feel an emptiness that no amount of moving across the country (time and time again) seemed to fix. My best friend from high school had been living the NYC dream for a few years and had been begging me to join her. I finally conceded.
Moving to New York City was a weird exception with the friend factor. I essentially moved INTO the center of her large group of existing friendships and they kind of just, took me in, no questions asked (we dubbed it, The Circle of Power). For the next eight years I had roughly twenty people I could turn to for anything, who I could call a friend without hesitation or question, a group of people who were really more family than friend. I became used to it, started to rely on it, and eventually came to realize that they were what was important in my life. They loved and supported me, they were always there for me, they were there to experience life together - good times and bad - and it was the group of them that created the foundation on which I stood and started to grow. (hi guys!) And so moving to Portland and essentially starting over in the friend department, well, it was challenging.
A few months ago I threw a White Elephant party. If you're at a loss for what that means and you're picturing some strange gathering where people are spray painting a group of terrified elephants white, let me explain. A White Elephant party is essentially a game where people bring unwanted gifts they've received over the holidays for a chance to trade in their awful gift for someone else's awful gift. Sounds appealing right? Personally I'm a big fan of awful things so it's pretty much a win-win for me. I'd never been a part of a White Elephant party before let alone hosted one, but after assessing our Christmas gift haul this season there were a few items there that we just didn't know what to do with, (though thankfully I managed to convince Adam to keep the Superman pajama pants) and the White Elephant party was born.
The party was a success and the collection of unwanted gifts from the guests were amusing. Unsurprisingly the idiom 'One man's trash is another man's treasure' holds true even when it comes to awkward holiday gifts (or especially when it comes to awkward holiday gifts). A few of my favorites among the haul were candles in the shapes of rabbits and squirrels (packaged inexplicably with a variety of ceramic eggs), knee high socks with crows on them, a 'bucket of love' that included all the trashiest dollar store finds for an evening of romance, a bizarre George Bush pocket knife, and a book about dating. I contributed a very tacky mug (sorry Dad! I really hated that mug) with a tiny bottle of Jagermeister thrown in to spice up the appeal, and in return "won" two very lovely red candleholders that, while the contributor of them thought hideous, I thought were fabulous.
It's late into the night. The cats are curled up in chairs fast asleep, or as asleep as cats get anyways always with one eye open. The husband is asleep, breathing deeply and dreaming dreams of his wife being an ax murderer. I am awake, drinking wine and quietly typing on my laptop, a dim yellow light behind me the only light on in our clean spacious apartment. It's a blessing and a curse I suppose, of being a natural night owl and also unemployed. On the one hand my mind is most creative and relaxed in the night, I write more easily, I feel more at peace, the darkness and silence a familiar and preferred companion. On the other hand it makes me lethargic during the day, puts my schedule out of step with Adam's, and easily threatens to become habit.
But tonight I'm feeling a bit nostalgic. I began creating a list of places I want to be sure to visit on my upcoming trip to NYC. Favorite bars and restaurants, shops and coffee houses, places that made New York home to me. It's been a while since I've been back so I had to dig deep to make a good list and as such opened a flood gate of memories and I started missing NYC. Though New York to me was rarely ever about the big city and the bright lights or bars or shops or places to eat. For me it was mostly about my friends and our experiences together. The places that we went, the staples over the years, they were simply the walls the housed our antics and laughter. That's what made NYC so special.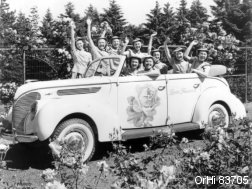 Every year, for the last 100 years, Portland celebrates the riches of the Pacific Northwest heritage by serving up a variety of programs and events under the umbrella title of the Portland Rose Festival. This festival, in its many incarnations, lasts for about three weeks and in 2007 was named by the International Festivals & Events Association (IFEA) as the Best Festival in the World. The festival's two most popular events are the Grand Floral Parade, one of the nation's top two all-floral parades, and the Waterfront Village, which features carnival rides, fireworks, The Circus Project (a troupe that performs Cirque-like acts with aerial arts, acrobatics, dance and music), an exotic animals exhibit, a petting zoo & pony rides, The Big Sling (a human catapult that slings riders skyward nearly 25 stories high at over 3 Gs of gravitational force), the Artisans Pavilion, and other specialty events rotated on a weekly schedule. Also included in the Rose Festival are events like MusicFest, the Dragon Boat Race, Fleet Week, a Starlight Parade, a 5k "fun" run, a road racing event called the Rose Cup Race, a Rose Garden show, historical tours and golf tournaments. Of all of Portland's summer events, to which there are many, the Rose Festival is the most highly anticipated one of the year.
While most of these things look fun on paper, and probably are ideal for people with kids, I personally find things like parades and races to be a bit lackluster in experience. There's a lot of standing around watching other people have the fun. And golf? Give me a golf tournament and I'll give you a really good nap. MusicFests sound like a good idea but never are, you go hoping for some good tunes and end up trapped in a crowd of beer sloshing drunkards listening to music you'd turn off if only you had the plug. So every year when the Rose Festival hits town what I most enjoy is the city's energy, the hustle and bustle of temporary structures being built and banners being strung, the sexy sailors roaming the streets for Fleet Week, and of course, all of those sparkly lights.
It's hard to make friends. I'm a solitary person most of the time so it doesn't bother me too much that I can count my Portland friends on one hand. I married my best friend so when I tire of spending time by myself I simply walk into the next room and tap him on the shoulder and say, "hi" or I just throw my arms around him and say, "LOVE ME!" That works, too. And I have my cats who provide me with endless entertainment and affection. So when we left our 20+ friends behind in NYC and moved to Portland, Oregon where we knew exactly no one, I wasn't worried. Adam and I are both socially outgoing and it wouldn't be long before we were bound to meet all kinds of awesome people in our awesome new city. Right? Right....
In the beginning Adam met some people through the band he joined shortly after we moved here. I too met some people through my new job at Pier One. And while all of these people were (and still are!) cool, and I occasionally went to a party or out to dinner with one or a few of them, I hadn't yet met anyone that I connected on many levels with. And then about a year after we'd moved here I got a new job and met my beautiful blond (soon to be) BFF. After Adam and I went to dinner with her and her boyfriend one night, the four of us formed a friendship that has continued to grow and blossom over the years, seeing each other almost on a weekly basis and spending every major holiday together. And so my social life here in Portland consists of mainly two people. It is occasionally peppered with one or a few of Adam's "Transformer" friends that he met through an online forum, or with one or a few of Adam's band mates. But I have yet to meet anyone else. Back in NYC Adam and I would throw parties at least once a month. These parties would consist of about 10 to 20 people and our freezer was never in want of alcohol because it was always stocked, always. So being in Portland and wanting to throw a party is rather depressing. Sure we've had the occasional "get together" but the attendees are mismatched and barely know each other.