It wasn't even worth it for the boobies.
— Horror Movies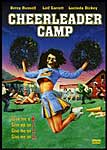 A word of advice, no matter how much fun you think the horror movie 'Cheerleader Camp' could be, you're wrong, on so many levels. Even if you were wiser than us and thought to yourself that the movie 'Cheerleader Camp' would be a bad bad movie, you're wrong, it's worse.
Hell, Texas Chainsaw Massacre 2, with Dennis Hopper, was a better movie than Cheerleader Camp, by far. And TCM 2 was one of the worst horror movies we saw last year. Adam and I actually turned off Cheerleader Camp about 40 minutes in, and if you're Todd, you know that right there, it says something.