Instant friends! Just add television and stir for one hour.
— Television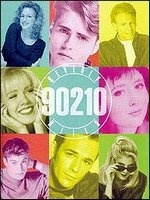 When I was but a youngin my sister and I were Soap Opera addicts during our summer vacations. The first one we cut our teeth on was Santa Barbara. We were devastated when it was canceled but soon forgot our distress when we started watching Days of Our Lives. That escalated into Another World because the two shows ran back to back. So you can imagine our immense pleasure when Beverly Hills 90210 came to television. This was a show that we could relate to, beautiful teenagers living in sunny California and dealing with hardships like abortion, drug addiction, cults, eating disorders, stalkers, rape, and of course, lovers triangles. You know, your basic teenage life. I was pretty hooked for a few years and then my own drug addiction, cult, and eating disorder got in the way of my television time and the show was lost to me for a few years. 90210 aired for ten years and in those ten years along with their dedicated weekly night show the networks also ran 90210 reruns and 90210 marathons. So in any given week you could probably watch about a dozen episodes of 90210. So. Awesome. And now, finally, after years of anticipation, Beverly Hills 90210 is coming to DVD! Aren't you excited? I'm excited. You should totally be excited too. I know Adam is. And they certainly are...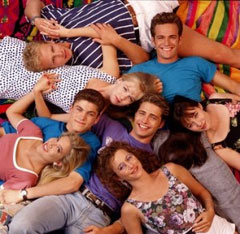 An interesting TV trivia tid bit: Anya (Emma Caulfield) from Buffy the Vampire Slayer landed her first recurring character on TV on Beverly Hills 90210. She played Susan Keats, Brandon's super smart yuppie girlfriend. I think they were engaged at one point too until he kicks her to the curb for Kelly, or something.
Also, another Buffy / 90210 tie-in, the actual high school used in the filming of 90210 was the same high school used in the first three seasons of Buffy. Isn't it nice when the world comes full circle and leaves us all fat and happy with useless knowledge about things that aren't really real? Well, of course Buffy is real, but all that other stuff, totally fake.