For the love of great gams.
— Style - Fashion
Every morning on my way to work I walk past a Nine West shoe store. The store front has huge display windows full of beautiful shoes that hypnotize women and make them drool involuntarily. Usually I can shake off that crazy dazed look pretty quick, I've gotten used to that affliction us financially challenged New Yorkers get when we see pretty pretty things that our pocket books just can't afford. First you see the pretty dress in the store front window of the expensive boutique and you're mesmerized by its beauty. Then you think of how wonderful it will look on you and how that dress, that's the dress that can actually improve your quality of life. Then reality hits and you realize you'd never be able to afford it. Then you make a mental list of all the clothing stores in New York that you can afford and you assure yourself that there's got to be a similar dress out there somewhere that doesn't have a pricetag that makes you feel uncomfortable, and you vow to look for it. Then you cross the street and something shiny catches your eye and the pretty pretty dress is forever forgotten. All of this takes place in a manner of seconds. So it is with great distress that when passing in front of Nine West this morning they had a new shoe display up which actually made me gasp. These shoes, these are the shoes that can improve my quality of life. They'll make me happy and everything will be okay as long as I'm wearing these shoes.
I'm going to post a few pictures but be warned that these shoes are so sexy they will encourage dirty dirty thoughts and you'll find yourself thinking things maybe you shouldn't because you're at work at someone will surely notice you getting all flushed ...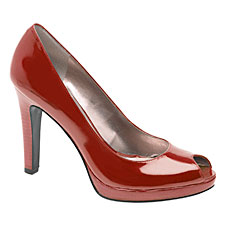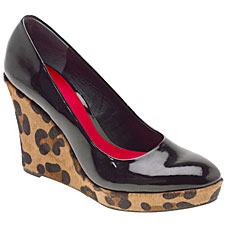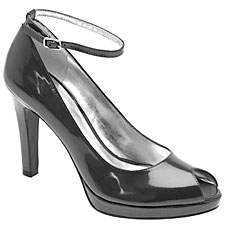 Hey man, I warned you.
I think I may have to sell my cats and my husband in order to buy these shoes. The sacrifice must be made. For the good of ... um ... consumerism. Feel free to send me money immediately. No checks please, I prefer PayPal.