I'm still physically recovering from unloading 29 feet of furniture from Monday's truck. It more feels like I'd been hit by that truck, rather having unloaded heavy objects from it, but there you have it. As one of my male co-workers said yesterday at news of my unwavering discomfort, "That's really pathetic". Sweet, right? But on the brighter side of life at least I'm gaining some rad and sexy muscles for my efforts. That's right lover, rad AND sexy. Because that's how I roll.
Speaking of rad and sexy, last night for Valentine's Day Adam and I went to an event at a venue called Wonder Ballroom. It was a "celebration of love" and we were surrounded by a Kissing Booth, a Love Clairvoyant, gourmet chocolates, and women dressed like burlesque dancers. But the main attractions were the Portland Cello Project followed by Vagabond Opera. The Portland Cello Project set the mood for the night by starting their set with the Superman theme song. Shortly afterward they played an all Cello version of Guns N' Roses, "Sweet Child of Mine", which was insanely impressive. But after the intermission PCP started resembling a talent show with mini acts of solo songs from select cellists. One woman did three songs that sounded like what if Ani Difranco played the Cello. It got a little boring and after a full hour of being underwhelmed by such acts we were relieved when it was announced that it was finally time for the Vagabond Opera. I guess I wasn't prepared for what I was about to see, despite the fact that the event had been playing Tom Waits as background music before the show and during the intermission, but when Vagabond Opera finally took the stage my face was frozen in the shape of a surprised joyous grin.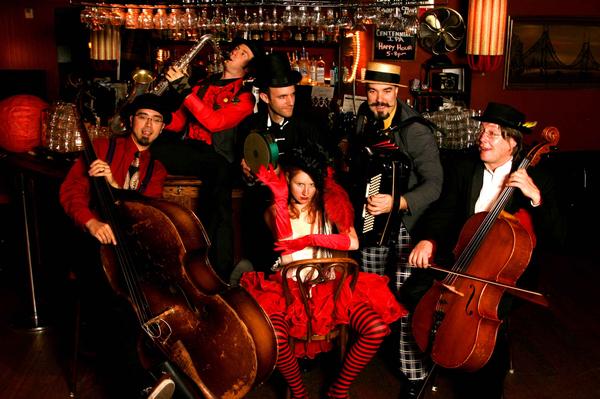 These guys were amazing. Their energy was limitless, they were funny, flawless, inventive, and superb musicians. By the time they went on stage I was already exhausted from a full day at work and two hours on my feet watching PCP, but I'm telling you, all that didn't matter because I could've watched them all night. Earlier in the evening the woman of Vagabond Opera, Madame Mango, did a song with PCP in which she sang opera. Quite simply, she has the most beautiful voice I've heard in my life. Later, when VO took the stage and she started showing more of her talents, saxophone player, singing saw player, to name a few, it became quite clear that this woman is the single most talented performer and musician I've seen in memory. I love her and want to be her BFF and brush her hair and feed her grapes. By the time the show let out at Midnight Adam and I were vibrating with amazement from their performance. They even covered a Tom Waits song "Tango Till Their Sore", which they executed wonderfully. So, Thank You, Vagabond Opera, for being Valentine's Day perfection. And thank you Adam, for being husband perfection.