I Am Woman, Hear Me mutter confoundedly while eating my hair
— Holidays
So ... Xmas was good.
Ethel and Fred came over, presents were opened, lasagna was eaten, alcohol was consumed, board games were played, it was perfection.

See?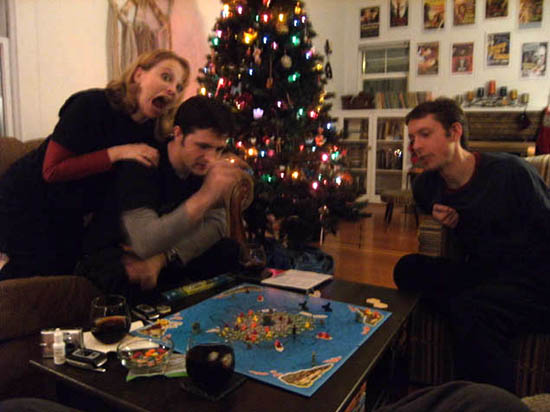 Don't worry, no Carls were actually harmed in the making of this photograph.
Then New Years. We ate grilled Korean, not the people but the food, went to a dance party in a warehouse, drank tequila, danced, got beer spilled on us, our asses grabbed by strangers, watched chicks make out, danced on stage with the DJ, went home drunk. I wore patent leather hot pink stilettos. It was awesome.
See?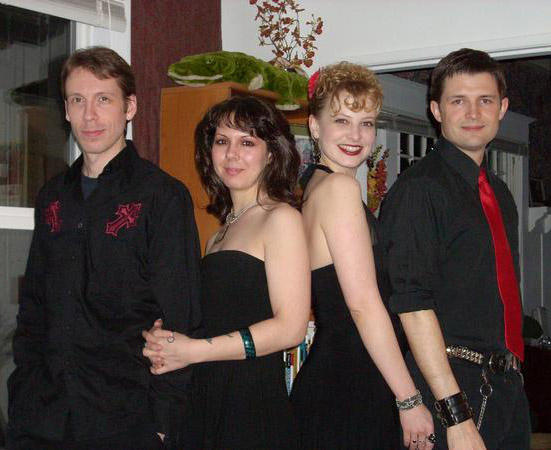 And so, here we are two weeks into the New Year, the snow is gone and the rain has returned, everyone is back to work, the Xmas decorations are in storage, and all traces of the holiday season have gone. All except for the presents. The lone survivors of a holiday that consumed us so fiercely for much too long a time. The results of time and money spent, frustration and second guessing had, and all for those pretty wrapped boxes that are eventually savagely torn open and fondled endlessly. God, I love Christmas. I am getting to a point here, I was just momentarily caught up in the intoxication that stupid holiday has over me ... I blame my parents.
And so, the point is Ally McBeal. That lovable neurotic waify lawyer woman with all of her lovable kooky lawyer friends who try ridiculous cases and for the most part always win usually by using some form of absurd tactics. It was a favorite show of mine back when it was on TV and my girlfriend and I would have Ally nights, wherein we'd cook (she'd cook), we'd ignore the phone, we'd never make other plans, and if for some reason there was another person there they were endlessly shushed if they dared speak outside of a commercial break. Years ago when the TV to DVD trend starting taking off I waited impatiently for Ally McBeal to be released. The show had been off the air for some time by then and I desperately longed for that kooky cast of characters and their crazy antics. But that day never came and I eventually learned that due to music rights issues, the show was not to be released on DVD in the United States anytime in the foreseeable future. Crushed! Heartbroken! Stupid red tape! Stupid Vonda Shepard. I don't even like your dumb voice. But hope was not lost. I'd found that Ally McBeal had been released on DVD in its entirety in countries around the world. So for years, I coveted from afar, always intending for some day to own Ally McBeal but never devoting the money to do so. For Xmas, my husband, wonderful selfless handsome man that he is, went ahead and purchased the complete series of Ally McBeal from Australia. We have an all region DVD player so no stupid technological boundaries stand in the way of me and my Ally.
As you can imagine I've been watching a lot of Ally McBeal these past few weeks. But also on my current list of new and recent obsessions is Wonder Woman. I've never been much of a fan of superhero comic books, at least not the main stream character ones like Superman, Batman, Spider-Man, Wonder Woman, etc. I go a little more for the obscure, the lesser knowns, the never-heard-ofs. But I've recently taken a shining to comic book writer Gail Simone, her titles Welcome to Tranquility and Secret Six rank in my top ten favorite comic books, and given the popularity of her run on Wonder Woman I decided, what the hell. So now I'm reading Wonder Woman. And it's awesome.
An unforeseen conflict has come with my two new loves. On the one hand we have Wonder Woman, strong independent Wonder Woman who has devoted her life to protecting mankind. She's smart, driven, fierce, and confident. She's a role model for women around the world (in the comics) and her bravery and strength gives them the power they need to take control of their lives when they're feeling weak, victimized and out of control. I myself have thought of her on more than one occasion when I was feeling powerless at work, when I was letting anger and frustration get a hold of me and I didn't feel in control. And then we have Ally McBeal. Clumsy, crazy Ally who is always second guessing herself and drowning in her own self pity. She wears short skirts to get attention, she dedicates her life to the search for Mr. Right, she's terrified of growing old, and whines constantly about being alone. With Ally, life isn't complete unless you have a husband, a career, and a gaggle of kids.
There is no balance between the two. No greater difference than Wonder Woman and Ally McBeal. It's left me with some confused thoughts of what a woman should be. Strong and independent? Codependent and sexy? Powerful and brave? Neurotic and questioning? For a girl like me, one that fancies herself a woman of the times, self-assured and strong, and yet also clings to the old fashioned desire to be protected and taken care of, a woman who thrives in a relationship and cherishes her husband, yet also a woman who does quite well being alone. Maybe I am the balance between Wonder Woman and Ally McBeal. Possessing qualities from them both but never in danger of being too much like either one. If nothing else, I'm having one hell of a good time figuring it out.