The most important months.
— Holidays
I can't believe we're halfway through November already. It seems like Halloween just happened. It's so fresh in my memory that I can still smell the aroma of my goodie bag of candy. That strange odor that comes along once a year that can only be obtained by mixing generic bubblegum with tootsie rolls with candy corn and snickers. It's an odd smell, one of my favorites, and I swear if I close my eyes and concentrate I can still smell Halloween, the burning wood, decaying leaves, candy, and the blood of the innocent.
But now we're halfway to Thanksgiving and the autumnal essence of the outdoors is quickly being replaced by the biting coldness of winter. Of course, winter in Portland is nothing compared to the winters of Michigan or even New York, but it's still cold enough for my thin skin and I will spend the next five months never being warm enough.
This Thanksgiving (and Christmas) will echo last year's and will be spent with Carl and Natalya, our partners in mischief and mayhem. Food will be made, wine will be drank, games will be played, it'll be great. Actually, it pretty much sounds like any other weekend we spend together so I'll have to come up with a Thanksgiving song to set it apart. Something to do with slaughtering millions of turkeys for the good of the nation. Or something similar in spirit and cheer. Maybe it will be a marching song. Though a sailing song would be more appropriate. Guess I'll have to sleep on it.
Then of course there's Christmas. The master of all holidays. The one that rules the kingdom of Jesus-loving humans. Of course, Christmas no longer holds as much religious meaning as it once did, it's now more about family traditions and presents, and even non believers like myself celebrate Christmas in a vaguely shallow way. One that often leaves an empty feeling inside because preparation for the holiday itself requires effort and thought and yet the execution is void of any true meaning. And yes, I could be more depressing if I tried but I genuinely love the Christmas holiday season so I'll just exit the topic on that note. It's not my quote but someone recently said, "There are four quarters in the year, and people, we're living in the only one that matters."
Don't be sad! Here, have an lolcat.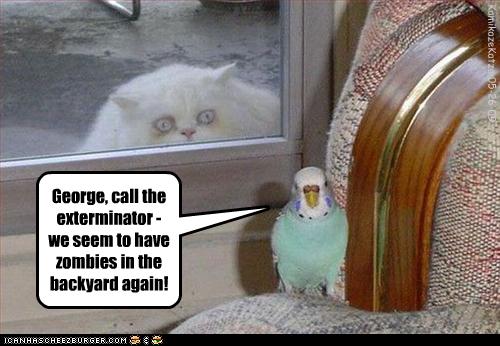 Cheers!