A Loo-Kee into the heart of a marriage.
— Notes from a Marriage
One day five years ago, as Adam was writing about his love for "opposite" villains, he was reminded of He-Man's evil opposite, Faker. This fond remembering soon spiraled into a serious He-Man phase, one that would have us purchasing eBay auctions of Castle Grayskull, Crystal Castle and Snake Mountain, along with dozens of vehicles, figures and extras. He was of course aided by my love for my childhood She-Ra collection, long since lost and fondly remembered. And thus our already significant toy collection expanded.
Around this time we were reminded of the She-Ra character Loo-Kee. Loo-Kee was a small strange looking creature that in almost every episode of the cartoon could be spotted hiding somewhere in the bushes, trees or background. At the end of the episode Loo-Kee would emerge and ask the viewer if they had noticed his hiding spot. He would then reveal where he had been hiding and then recount the moral of the story from the episode. And so it began...
I first found Loo-Kee hiding in the filter basket of my coffee maker. About half the size of a postcard, an image of Loo-Kee had been printed and now stood before me recounting the moral of my story, that my husband was silly and fun and the game was ON. I took Loo-Kee and hid him in the medicine cabinet next to Adam's comb and toothpaste. The next day Loo-Kee was gone and I knew that he was waiting for me, hiding somewhere eager to be discovered.
The initial hiding and re-hiding of Loo-Kee were in fairly uninspired locations, I found him inside my boot, I hid him under Adam's pillow, I found him under the toaster, I hid him in Adam's wallet and so on. But this little game of ours has lasted far longer than either of us had ever anticipated. After the first month or so of finding Loo-Kee within a matter of days and then being tasked with hiding him again, we started to make things... difficult. I hid him in a book that had been in Adam's to-read pile for months, Adam hid him in a suitcase where I store old picture frames. It started taking us longer and longer to find Loo-Kee and eventually it got to the point where he would be hidden for months.
It's been five years since Loo-Kee started hiding. He's been in a lot of strange places and is often forgotten about until he pops up somewhere unexpected. Recently I hid him inside the trailer of Optimus Prime's vehicle mode, knowing he would be in there until such time that Adam was in the mood to transform it into robot mode. That was maybe three months ago. And just days ago I found Loo-Kee inside of the game of Yahtzee. A game that, for years, Adam suggests that we play and I always say, "I hate Yahtzee". We haven't played Yahtzee in like, eight years, and the only reason I even looked inside of it now was because at my recent birthday gathering some drunk people (you know who you are) while trying to get to Trivial Pursuit, made a mess of our tower of board games and days later I had to reassemble the stack. I spotted Yahtzee and thought, why do I hate this game so much? I haven't played it in years! So I opened it up to get a look at the game and there he was, waiting for me.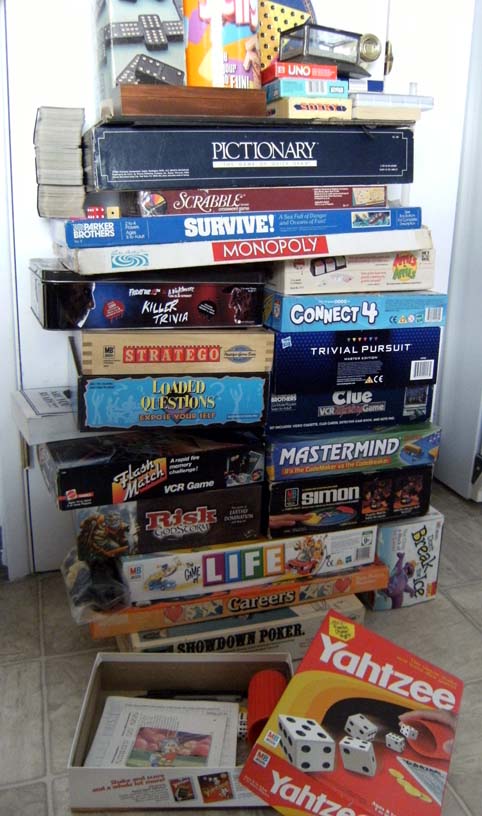 Sometimes, when I haven't seen Loo-Kee in over a month and am reminded of him, I sit there and think, Now where could he be hiding? Never do I set out to look for him, that's not really the point. But instead every time I find Loo-Kee he tells me the moral of the story, that after all this time, my marriage is still fun.