The Empress's New Clothes
— Personal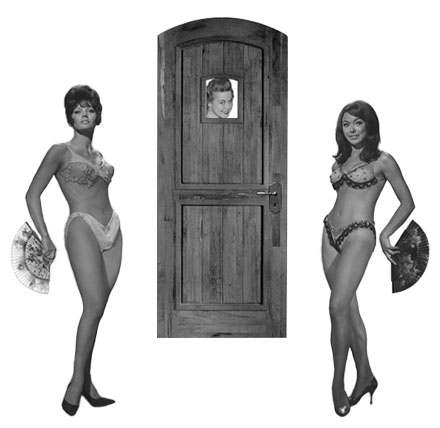 Maintaining a website can grow tiresome at times. There comes a point where you start thinking certain things aren't blog worthy and then, nothing ever is. Things lay dormant, gathering dust and eventually become forgotten in the minds of your readers. Well, things are about to change.
As my previous post had stated, I've got a few new writing projects in the works! I've been busy building new websites and developing new content and devoting much of my time to honing my craft (gag). What started as a few tweaks to this site to advertise and link to those new websites, turned into two nights of sprucing this bitch up.
The most notable change is the background color of this website. Since this site was built with HTML (etcetera) roughly seven years ago, it's not as easy to change certain design qualities like it would be on other template-based blogging sites like Blogspot or WordPress or Tumblr. Which pretty much explains why this site has never seen a major design overhaul in its entire seven years. The header image changes about every six months, but that's about it. A lot of my designs on the site were image based - like the rounded corners and the titles - which throws a wrench into easily changing the background color. So imagine my surprise when Adam said that he could finally change the background color relatively quickly (something to do with new coding developments? I know how to turn a computer on! And off.. sometimes). My reply was something like a squeal and a jump up and down, so he did it. It's gone from a light beige to a light grey. Makes me happy.
The other changes to this site include: Renaming the title of the site from An Oasis in Portland to Dollface in the Dark (it was time y'all); changing the font on various titles; removing the Netflix movie reviews link and replacing it with my site Movies In The Dark; adding my Twitter feed - which will be updated with notifications of new writing content posted to my various sites (as well as other goodies); the Snapshot! gallery moved to the left sidebar; the right sidebar now features permanent links to my writing websites and short stories; a new watermark that appears faintly in each post (flower-skull); and of course the new awesome header (and footer)! I have also updated my Links page and added a few new images to the Images page (including all updated images of the Commodore and Tsunami gallery - awwww)
I also made some changes last August (right before a family ordeal so the site again lost priority) though I don't think I posted an update about them so I'll mention it here just in case you missed it. This site was created in 2005 but I kept a blog for two years prior to that on Blog-City. I stumbled across a word doc earlier this summer that I apparently created and then promptly forgot about. It was all of the blog posts I had written at Blog-City, copy and pasted in a word doc before I deleted my account. So I created two years of past posts (mostly angry New York City rants) which you can access in the left calendar under 2003 and 2004. Oh, and the calendar is new(ish), making it easier to navigate through the nine years of blogging.
Well, that about sums it up. I have an RSS feed in the upper right corner on my home page to make it easier to follow when I update here. If you find anything that looks weird in this new design please feel free to email me about it. We only just pushed this live tonight and might find a few odds and ends that need attention. And of course this all wouldn't be possible without my brilliant husband, who single-handedly built this site back in 2005 and who continues to cater to my every wish when it comes to changing it. You are so very.
Enjoy! And come back often, for I have fabulous tales to tell.