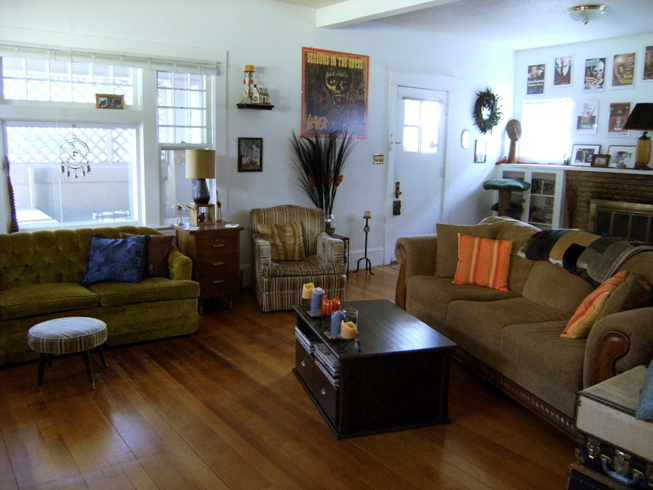 If you've ever been inside my home you know very well that my decorating tastes are extremely eclectic. My furniture ranges from family antiques to thrift store finds with some Pier 1 and even a few pieces from Ikea. The art that adorns my walls are from hundreds of different artists; many pieces are from local indie comic book artists, there's my fondness for pin-up art on display, my collection of vintage horror posters, a variety of strange masks and other random pieces scattered throughout. The statues and small figurines that live here tend to be of the animal kingdom, with an unintentional Buddha collection thrown in for good measure. There are tons of throw pillows, scarves, lamps, vases, decorative branches and flowers and feathers, throw rugs, pottery, books and candles. The list is quite endless but you get the idea. Though despite the myriad of things on display I manage to maintain an orderly appearing home, one that is clean and organized and miraculously, rarely cluttered. I have a flare for decorating and an impatience with sameness so my home remains my visual playground, ever changing and evolving.
I wish I had that passion when it comes to my clothes and shoes but I do not. Instead I wear a steady uniform of black and grey; tight pants and a sweater with knee high leather boots in the winter, tank tops and skirts or dresses with greek style sandals in the summer. I'm rarely fashion forward but never sloppy and I suppose if I had to describe my style it would be elegant-casual with a touch of street fighter.
However, somewhere down the line my passion for decorating bled over into my indifference for fashion and a love of jewelry was born. Adam once said that one of the words that comes to mind when he thinks of me is "metal".
I'm constantly donating any unworn clothes or shoes to Goodwill. These days I rarely have anything in my closet that is older than a few years. Sometimes I regret getting rid of a particular item but it's generally always for nostalgic reasons and not really for any practical one. But not so with my jewelry. I still have the jewelry I was wearing when I was a little girl. Like my pale pink rose post earrings. Or my turquoise bird ring that is so small it doesn't even fit my pinky finger. I have slowly and steadily been collecting jewelry for the last 30 years and have roughly 90 rings, 145 pairs of earrings, 55 necklaces and 53 bracelets (not including bangles). And yet I still have that desire, that burn in my heart and soul for more.
Apartment living can be tricky. The first apartment Adam and I lived in together was about 700 square feet. The kitchen was quite literally just a 10 foot wall of appliances with a sink and a sliver of counter space. It was located in the living room. There was one small closet in the bedroom but otherwise it had no storage space, not even a linen closet. Hey, it was NYC - you take what you can get. Our second apartment together was about double the size, it was a railroad apartment and it was wonderful. But despite the space we still only had one (doublewide) closet which was randomly located in the hallway in the middle of the apartment. This is all to say, my large and ever expanding jewelry collection was always in a suitcase shoved under the bed or dresser. My purses and hats were in storage bins shoved under the bed.
So image my delight when we move to Portland and we have not one, but three closets. After dedicating the doublewide closet to our clothes and the deep walk-in closet to storage, I commandeered the third closet for my own personal use.
I introduce you to... the closet of magical wonders.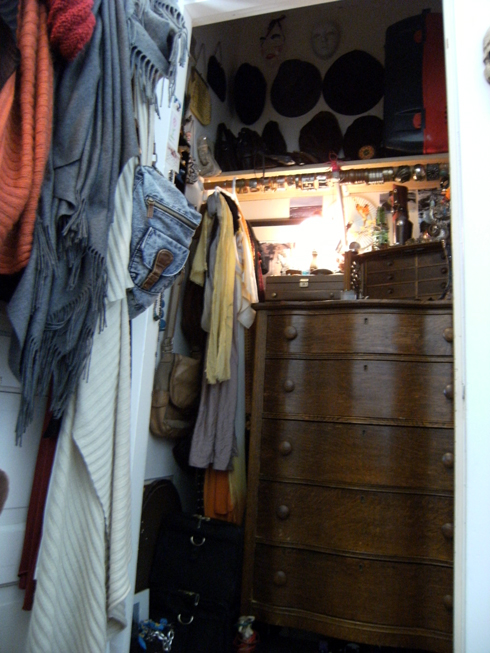 There are only a few of you that have ever been allowed to peek inside of this haven of self-indulgence. But I'm not a very private person (as you all are too painfully aware) so allow me to take you on a tour of my favorite room in the house.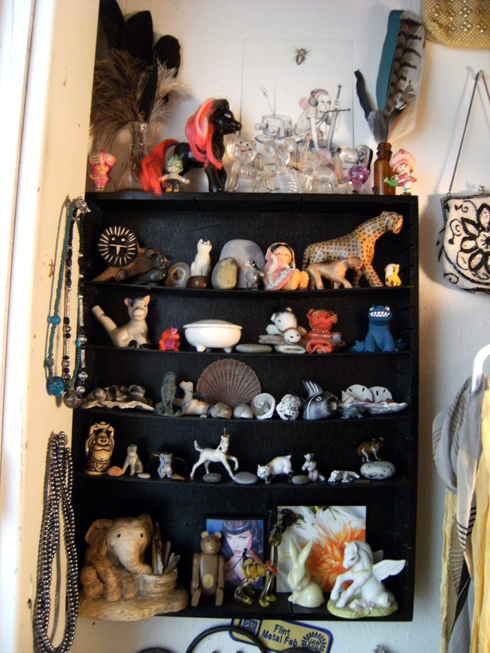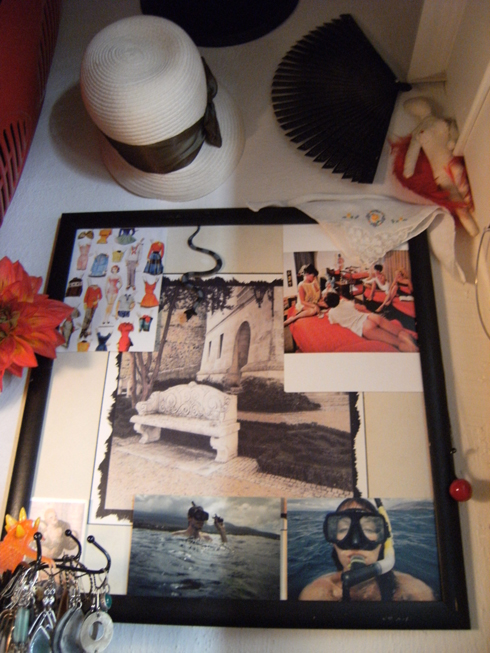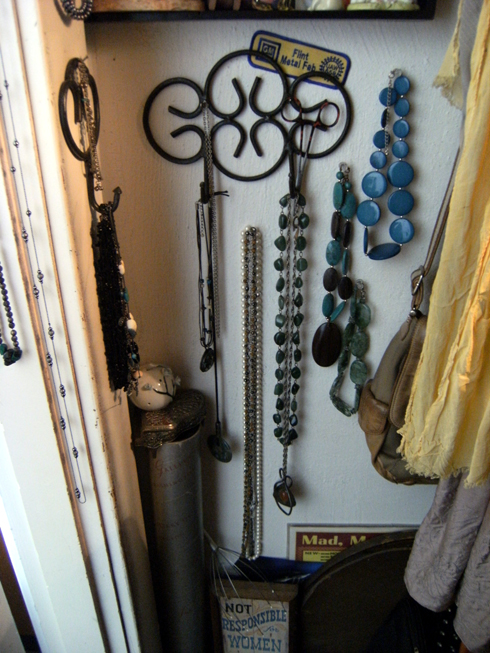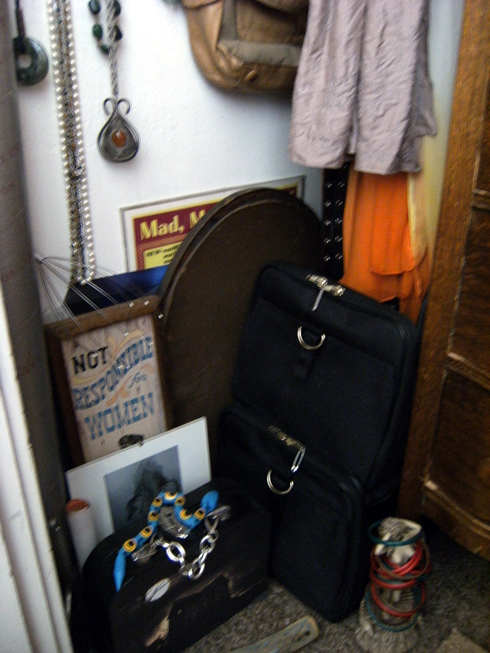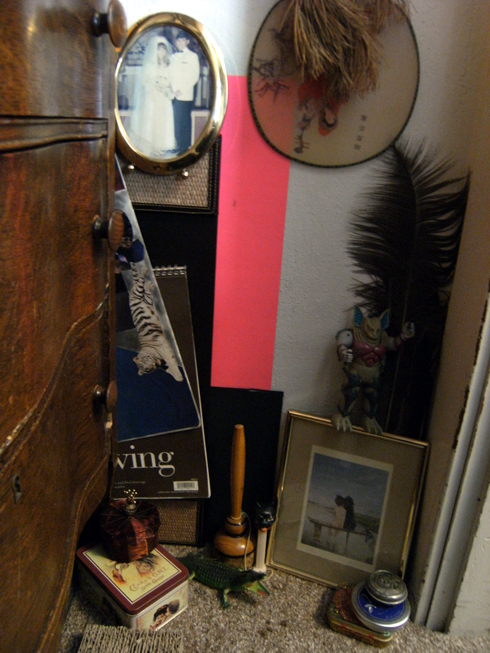 Shown above we have the left side of the closet and the right side of the closet, respectively. On the upper left side of the closet I have my collection of shells, feathers and tiny figurines. Quite a few of the figurines are from childhood, like my Strawberry Shortcake toy that still smells of plastic strawberries. On the upper right side of the closet is an old Pier 1 piece of art that is adorned with my favorite honeymoon snorkeling photos and some other random magazine tear outs that I love.
The middle left side of the closet has mostly larger necklaces that I rarely wear, along with a musical box shaped like a piano that was my mother's, as well as her porcelain closet freshener that still has the old perfumed satchel in it from 50 years ago. The middle right side of the closet has the more delicate necklaces and chokers as well as a giant fake bloody knife (like ya do).
The lower left side of the closet has some art that is currently in retirement, a handmade lunchbox purse that my best friend made that I filled with gloves, a naked lady statue with bangle bracelets and two fabric mesh cat carriers that is Tsunami's super secret favorite spot. Most of the time the scarves cover him but I can always tell he's there because when I open the closet wider and step inside a purr floats up through the darkness.
The lower right side of the closet is a smattering of favorite things; like my parent's wedding photo, my Pretenders gargoyle, a box of buttons, a stack of tin cans (the top being a very old tobacco can), a wooden ball/cup game that was my grandmother's, and an old painting that has hung in my bedroom since infancy, it is of a little naked girl and her dog sitting on a dock at a lake.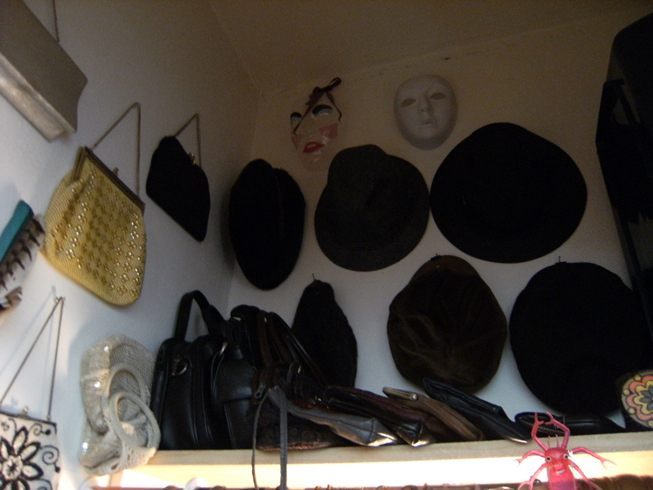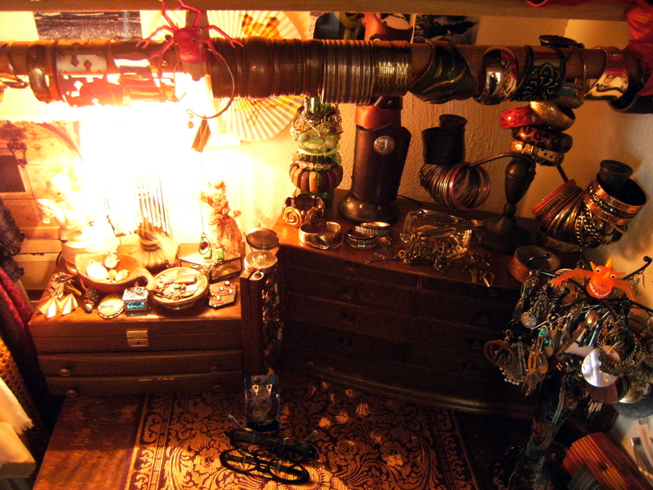 The top of my closet is utilized for hats, handbags and some creepy masks I've worn over the past few years for Halloween. The picture on the right is of the top of my dresser. There's a wooden bar that runs the length of the closet which is perfect for my cuff collection. The jewelry box on the left houses my rings, the one on the right the earrings that I don't often wear.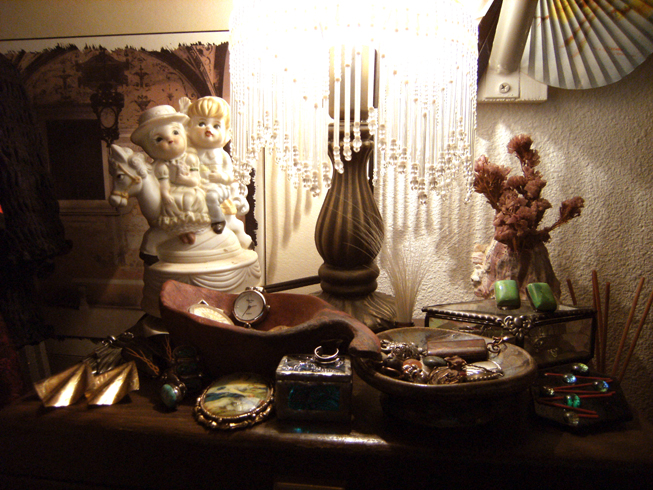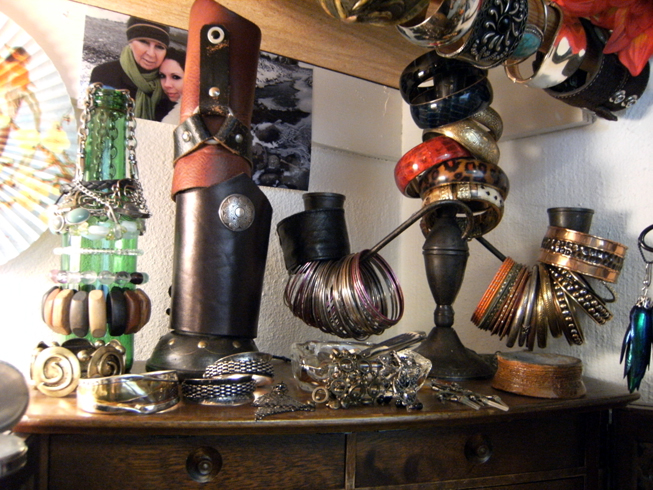 The photo on the left is of the top of the left jewelry box. Here we have a small lamp, another old piece of art from Pier 1 in the background, a musical statue that spins and plays "It's a Small World After All", some broaches, a few pairs of earrings, a dish of pendants, a bowl of dead watches, a little shell vase with dried flowers and my whisker collection. Yes, I said whisker collection. The photo on the right is of the top of the right jewelry box. Here we have mostly bracelets and leather cuffs with a few earrings and photos from a Michigan trip. By the way, tall candleholder and bottles make excellent bracelet holders.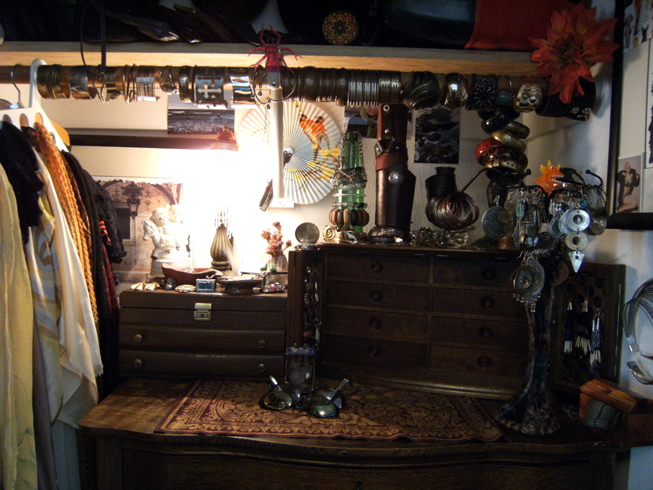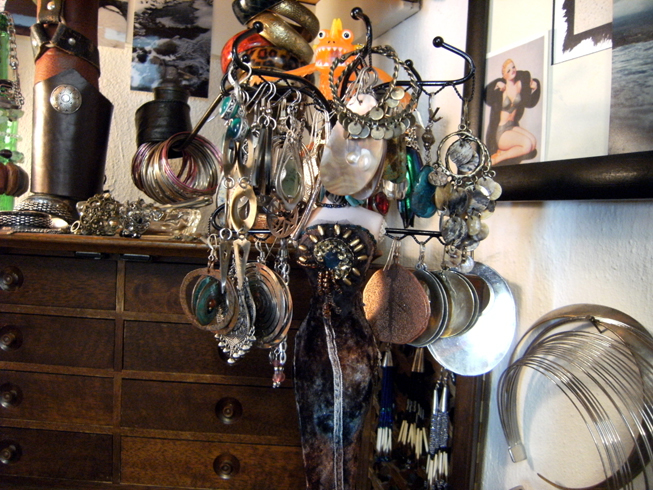 The photo on the left is a more straight on shot of the top of my dresser. To the left of the dresser there's a hanger of scarves, a hanger of belts, and a few of my favorite satchels and purses (the rest are stored under the bed). The photo on the right is of my earring tree. It's pretty gaudy but it was a gift from my mom (thanks mom!) and is pretty efficient for accessing the earrings that I regularly wear.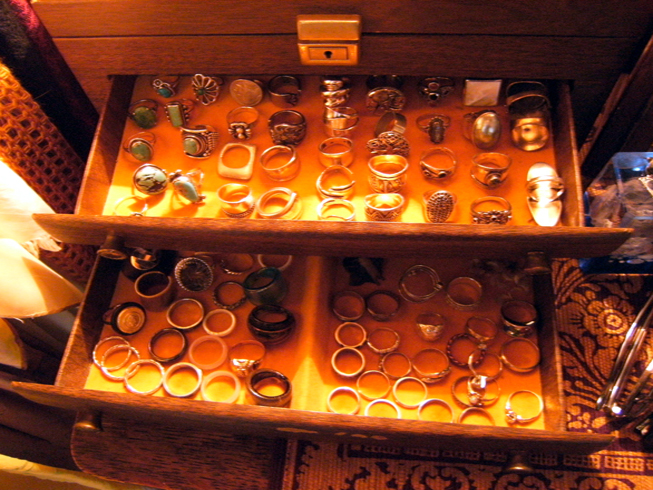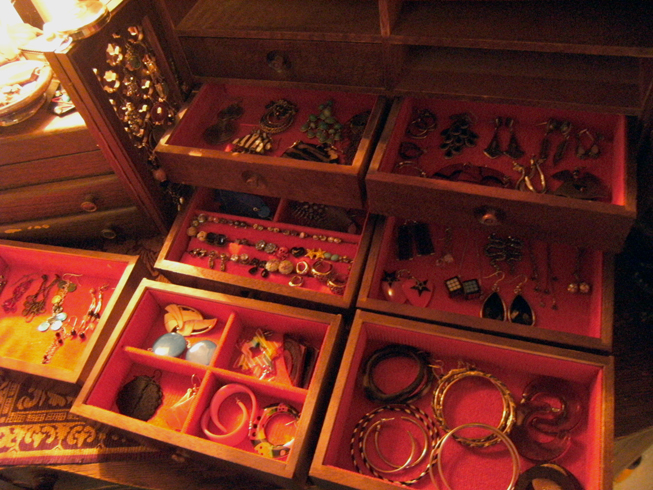 This gives you a peek inside the jewelry boxes. The one on the left is my ring collection, the one on the right the earrings that I wear less often.
If you've looked carefully at the details of the photos throughout this post you'll see other little oddities like rubber snakes and alligators, rubber finger puppet monster heads, weird stickers, decorative fans, sentimental and romantic memorabilia, pin-up art and a naked angel doll my friend Vanessa made for me years ago. So there you have it. My super secret closet of magical wonders. I hope you enjoyed the tour!