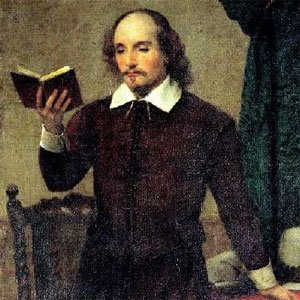 My first exposure to Shakespeare was in 1992. I was in the 9th grade. There was a class field trip arranged to see the performance of A Midsummer Night's Dream in Stratford, Ontario - about a 3 hour bus ride from Flint, Michigan. Each participating student had to pay $75 if they wanted to go, so the final headcount was understandably low. Lucky for me, two of my best girlfriends were a part of the sanctioned crew. The memories I have of that trip are still quite vivid, as it was a trip of many firsts. It was the first time I was on a trip sans parents. It was the first time I was in another country. It was the first time I saw a professionally produced stage play. And it was the first time I saw anything Shakespeare. I felt like a grownup. Like a free woman exploring a cultural world beyond imagining. It was my first taste of that feeling of restlessness, of my gypsy spirit being shaken awake and wanting to go, go anywhere but here.
I fell in love with A Midsummer Night's Dream. It was magical and breathtaking, unlike anything I'd ever seen. And the language! Oh my, what were they saying? I didn't know, but it was beautiful. I also fell in love with Puck. A nimble, thin man deviously plotting and creating mischief for his own entertainment. Also, his codpiece was hypnotizing.
After that trip I tried several times to read Shakespeare, and each time ended in frustration. It was difficult and confusing. It was barely English as far as I was concerned - impenetrable. So that was that. No more Shakespeare.
Fast forward to the year 1999. The year I met Adam Alexander. Adam was a man of very different tastes from my own. While we both enjoyed a penchant for the macabre, mine was experienced through my bad poetry and horror movies, and his through loud, heavy music and Shakespearean tragedies. Most notably, Hamlet.
Adam - in an eternal effort to expand my palate - suggested one day that I read Hamlet. I think my response was something like a grimace. He pursued, I resisted, so instead we compromised. One weekend afternoon we cozied into the couch together and he read Hamlet aloud to me. We took our time, had breaks for tea and pauses for questions and light discussion, but mostly it was straight-through. It took four hours.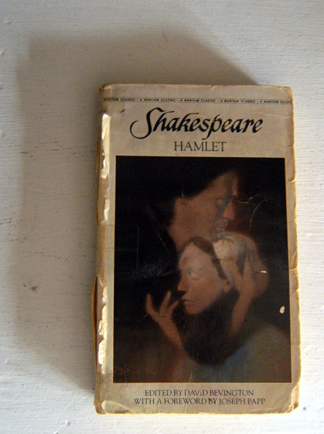 Adam's ancient and tattered copy of Hamlet.
I fell in love with Hamlet. It was tragic and insightful, with moments of ponderous insanity and heartbreak. And it was funny! And intense. And so very dark. I also fell in love with Hamlet, the man. He was brooding and mournful, and appeared mad at first glance, but with a more focused eye proved to always be the smartest man in the room. What's more, after it was over there was still so much left to wonder about! Was he truly insane or was it an act? Was his love for his mother innocent or sexually driven? Was the father's ghost real or imagined? The interpretations are endless. Here is my favorite passage:
QUEEN GERTRUDE
There is a willow grows askant the brook,
That shows his hoar leaves in the glassy stream;
Therewith fantastic garlands did she make
Of crowflowers, nettles, daisies, and long purples
That liberal shepherds give a grosser name,
But our cold maids do dead men's fingers call them:
There on the pendent boughs her crownet weeds
Clamb'ring to hang, an envious sliver broke;
When down her weedy trophies and herself
Fell in the weeping brook. Her clothes spread wide;
And mermaidlike awhile they bore her up:
Which time she chanted snatches of old lauds;
As one incapable of her own distress,
Or like a creature native and endued
Unto that element. But long it could not be
Till that her garments, heavy with their drink,
Pulled the poor wretch from her melodious lay
To muddy death.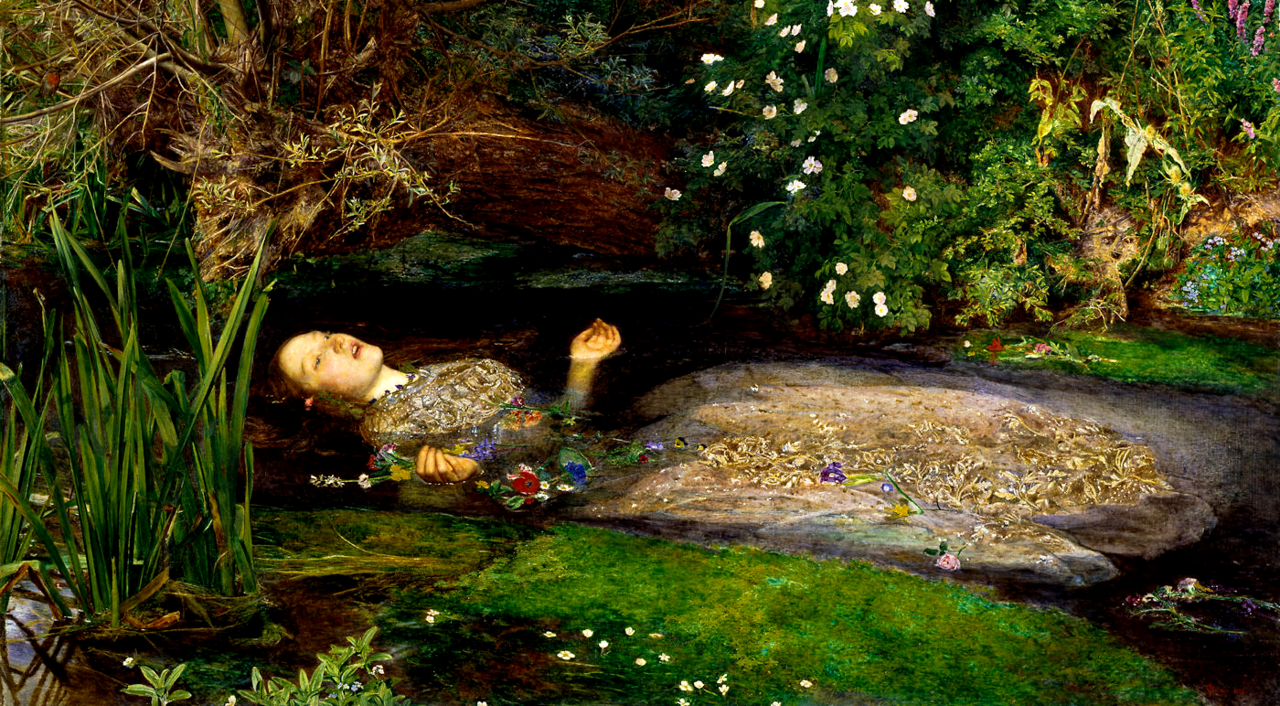 One of my favorite paintings of all time, Ophelia Drowning by John Everett Millais
After that day the walls I'd built between myself and Shakespeare slightly crumbled.
Over the course of the next 12 years I would see another seven Shakespeare plays, though I still have yet to read one.
In 2010 I caught wind of something called the Oregon Shakespeare Festival in Ashland, Oregon. It sounded like a great idea but Ashland, come to find out, is a five hour drive from Portland. That means if we wanted to go we'd have to stay in a hotel. And come to find out, hotels in Ashland aren't cheap. Apparently this Oregon Shakespeare Festival is like, a thing. A big thing. People come from far away lands in order to experience all that is Ashland at festival time. Also, tickets to the plays are not cheap. But while I was discouraged by the ungodly cost of what it would take to go to Ashland for a weekend and see a fantastically reviewed Shakespeare play, I was not deterred. Why? Because Hamlet was playing.
Adam and I had never seen Hamlet performed live. And since the plays in the OSF are rotating, this was the first year in ten years that Hamlet would be performed at the festival. It was serendipitous! So, that year Adam got a very nice birthday gift.
The weekend was wonderful. We stayed in a great little hotel with a pool, ate fantastic food, drank a lot, saw deer grazing on front lawns, shopped, and went to two Shakespeare plays. Oh, the plays! The first we went to was Throne Of Blood. Throne of Blood is a 1957 Japanese film directed by Akira Kurosawa (which just so happens to be one of Adam's favorite Akira Kurosawa films), and is an adapted version of Macbeth. So the play was essentially an adaptation of a Japanese film that was an adaptation of a Shakespearean play. It was wild.
And Hamlet! Oh, Hamlet. My spirits were dashed slightly when I found out that it would be a "modernized" version of Hamlet. I do so love the Elizabethan era and heartily roll my eyes at the thought of Hamlet dressed in a suit and wielding a cell phone. But wow. They proved me the fool. I have never in all my life seen anything that moved me so. I had goose bumps the entire time. I cried and laughed and cried some more. I held my breath and sat forward in my seat and hurt my hands from clapping so hard during the standing ovation - which was thunderous. I was awe-inspired by the bold creativity of this modernized version of a beloved classic. Most notably, the actor who played the ghost of the father, was deaf. So there was sign language used throughout the play along with the spoken lines. The Queen was a black woman. Rosencrantz and Guildenstern were women. The Players rapped. It was madness! It was brilliant! Dan Donohue, who played Hamlet, was phenomenal. It was my favorite thing ever.
While browsing the gift shop after the show we came across a poster that we both really wanted. It was an unabridged, one page edition of William Shakespeare's 'Hamlet', in a 27in x 40in print comprising of 31,873 words! And while we loved it, its $40 price tag drove us away, and so we made note of it for a "someday" purchase. And two years later, we made that purchase. It is now framed and perfect and lovely, and it hangs in our kitchen at eye level for everyone to pass by and read.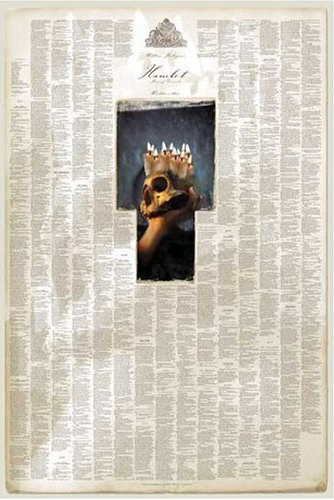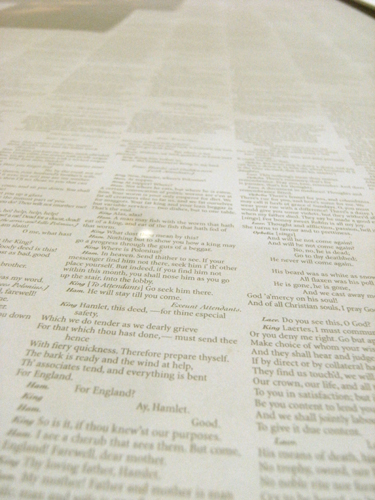 Exeunt [marching, bearing off the dead bodies; a peal of ordnance is shot off].
Adieu.