Stumptown Comics Fest 2013
— Comic Books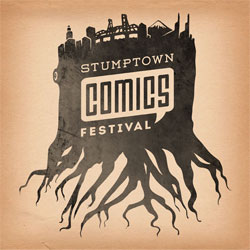 My favorite Portland event of the year came and went all too fast. One minute I was at the ATM stuffing my pocket full of $20s and collecting my ticket and program to this year's Stumptown Comics Fest. And the next minute I was practically throwing my money at artists and leaving with an empty wallet and a bag full of treasures.
I had a little bit of post-stumptown depression as I was leaving the convention center. It was, after all, still in full swing and here I was leaving in the middle of the hustle and the bustle that was the fest. But I had done half a dozen laps around the room already, I had a measly $4 left in my wallet and I was moments away from plopping down next to a favorite artist or two just to hang out and soak up the atmosphere, becoming that girl. So yeah, it was time to go.
But I had fun while it lasted! I got to see and chat with my favorite indie comic creators and artists. Terri Nelson of Meen Comics was the first of my favorite creators that I stumbled upon. The woman is hilarious and I always blush and get all weird when I'm around her. Because I'm awesome. Jonathan Case was there - a superbly talented artist. If you've ever been to my house you've seen his work prominently displayed, like, everywhere. I was sad that he didn't have any new art for me to purchase but it was great to see him nonetheless. Kenan Rubenstein was there - all the way from Greenpoint, Brooklyn (my pre-Portland home!) and I was very excited to discover he has a new book out. His art is breathtaking and his stories are always lovely and touching. Other favorites include Reid Psaltis; Michael DiMotta and CM Butzer. I didn't really discover many compelling new comics this year, but admittedly I was more in an art mood than a comic book one. And with that in mind, I walked away with three new pieces from two newly discovered artists - Adam Rosenlund and Alexxander Dovelin. Here's the haul:
Next year I am definately saving up a little sooner and indulging just a little bit more. And next year I will be clearing my evening schedule for the after party. Because everyone wants to be drunk around people they admire. That never ends poorly...